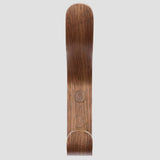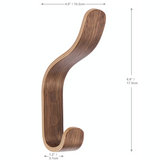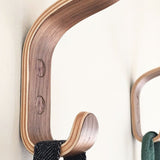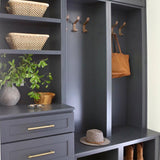 "Mundaka" Wall Hooks In Walnut (4 Set)
4 x wall hooks made from responsibly sourced

birch plywood with walnut outer layer

Includes hardware to fit to timber studs, masonry walls and hollow walls (a.k.a sheetrock walls)

Resistance to moisture from damp coats or towels, lacquered finish

Contemporary statement piece with modern sculptural lines

Each hook measures; 6.70 H x 1.22 W x 4.13 D (Inches)
"Mundaka" wall hooks are a contemporary statement piece which are as functional as they are stylish. Modern sculptural lines are achieved through careful forming of plywood sheets, a lacquered finish gives the hooks resistance to moisture from damp coats or towels. The perfect addition to any modern hallway or bathroom. The hooks come in maple or walnut wood veneer. Each set includes fixings to fit the hooks to timber studs, masonry walls and drywalls (a.k.a sheetrock walls). Please note that hooks secured on dry walls using the hollow wall anchors provided are intended for light loads only. Placing heavy items on hooks secured on dry walls may result in damage to the wall and the hooks becoming unsecure from the wall. Each hook measures; 6.70 H x 1.22 W x 4.13 D (Inches).
UPC: 817429020072
Registered US Design Patent: US D863,943 S

EUIPO Registered Design Number: 004153401-0001
Shipping
There are three shipping services to choose from:
Standard Shipping 3-7 business days - FREE
Expedited Shipping 1-3 days business days- $7.95 (for one item)
Priority Shipping 2 business days - $9.95 (for one item)
We ship only within the USA.
For multiple unit orders shipping discounts apply and will be calculated during checkout. 
You will receive a confirmation email once you have placed your order, then another one once your order has shipped. Please note that with Standard Shipping occasionally orders are only dispatched 5 days after the order is placed. In these circumstances a next day delivery service is used so the we still meet the delivery window. So please don't be alarmed if there is a delay in receiving the dispatched email.
Returns
We want you to be completely happy with your purchase. Should you wish to return an item, return it back to us (within 30 days of placing the order) and providing that the item/s are sent back in unused new condition with all labels and product packaging in place you will be issued with a refund.
Returns Process
If you'd like to return something you have purchased from us, please get in touch at hello@waveply.com and state the reason for your return and your order number. We will then send you a returns label, return postage will need to be organized and paid by yourself.